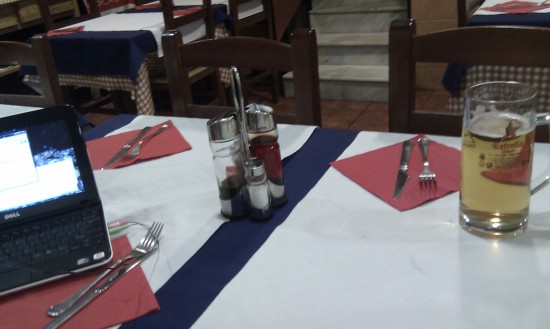 Let's face it, going abroad is expensive if you use your phone. You can be careful, you can sign up to a network or package which allows a certain amount of data or calling when you're abroad or… you could do it my way. If you've never heard of SIP or VoIP don't worry – the acronyms aren't too important. It's a technology which lets you make and receive phone calls across the internet. Skype is one way of doing it, but as I gradually slip into a full-time geek I've subscribed to sipgate. A few years ago I added some credit and got a free local number. It's a normal number with a normal area code and you can choose one from anywhere in the UK. I chose my local exchange, which means that from my "normal" home phone I can call it for free as part of my calling package.
To make and receive calls on your new phone number you'll need to log into your sipgate account. Now, don't worry if you're not following this completely, there's plenty of details on their site or you can use Skype in a similar way. There's plenty of software applications for Android and other handsets which will let you connect and call using VoIP (Voice Over IP) plus you can buy IP telephones which will do this for you or use Windows-based applications.
What's the benefit? Cost is one yes. With VoIP technology I can call the USA from my house for 1.5p per minute because the majority of the "trip" is done over the internet. However… there's nothing to say that you always need to be at home when you're making and receiving a call. I could effectively be anywhere – my second home in the St Lucia or my apartment in New York (I wish!) Get your VoIP application logged in on your phone, laptop or PC and you're done. People back in the UK can then call you on your local 0121 number (or whatever you choose) and magically your IP phone or software app will ring. The person calling you pays nothing, you pay nothing. Done. If you call back you're paying local rates instead of transatlantic costs, so there's money to spare if you want to extend your beach house in St Lucia.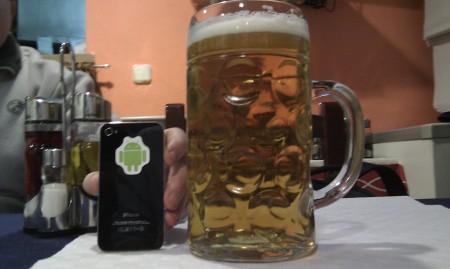 On Tuesday here in Barcelona I wanted to give this a try. I'd usually use either this solution or Skype to call home from my hotel room via the WiFi but, heck, I wanted a challenge. At a local restaurant I had a couple of beers, a pizza , then I used my netbook and plugged in a local 3G Orange data dongle. You can buy a local SIM if you want and use your own dongle or unlocked phone, it's up to you – I only used the netbook and the dongle because they were with me. After plugging it in and getting on the web I figured that VoIP really wouldn't work. A lot of mobile networks will block the ports that VoIP uses because, hey, you're effectively taking money off them by not using your mobile to call home.
It connected and I logged into the sipgate account successfully through some software called PhonerLite. From here I made a call by just dialing the number normally (because it thinks I'm in the UK) using a small earpiece with a microphone. I got through and spoke for exactly 20 minutes. As a test I wanted to see just how much data this used, so here's the before and after shots.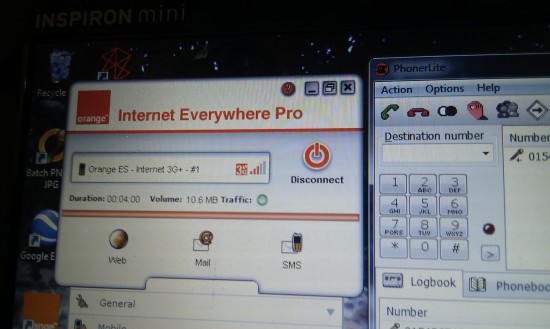 As you can see I used around 20MB for a 20 minute call. You can pretty much work on 1MB per minute. You'd never want to do this over a roaming data connection but, if you get a local WiFi hotspot or a local SIM from the country you're visiting, it's perfect.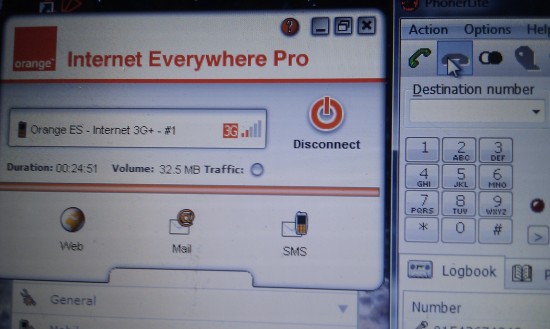 Links – Skype.com – sipgate.co.uk – PhonerLite