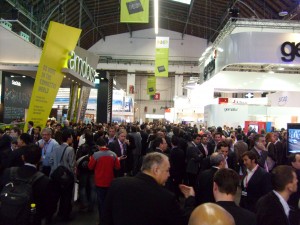 We attended the big windows Phone 7 launch day last October and got hands-on with the new handsets from LG, Samsung, HTC and Dell. It was only four months ago, so we weren't really expecting to see any new Windows Phone 7 devices launched here at Mobile World Congress. What is a little surprising, despite the Nokia announcement, despite the Steve Ballmer keynote, is just how difficult it is to find anything relating to Windows Phone 7.
On the LG stand I couldn't see any Windows Phone 7 devices. On the Samsung stand there were some, but they were at the back, in the corner. HTC had a good selection, with the HTC 7 Pro attracting some attention, but there's definitely a David and Goliath feel to things here in Barcelona. It's not the fault of the manufacturers. They're selling the Windows Phone 7 phones, it's just the fact that there's far, far, far more Android devices in the range and right now they're getting promoted so heavily. Walk into the Congress and you're literally smacked over the head with Android devices.
A lot has been said about the Nokia and Microsoft partnership. A huge amount has been written about the direction of Nokia and how lucky they were to switch to Microsoft. For me, it's Microsoft who need Nokia, not the other way around.