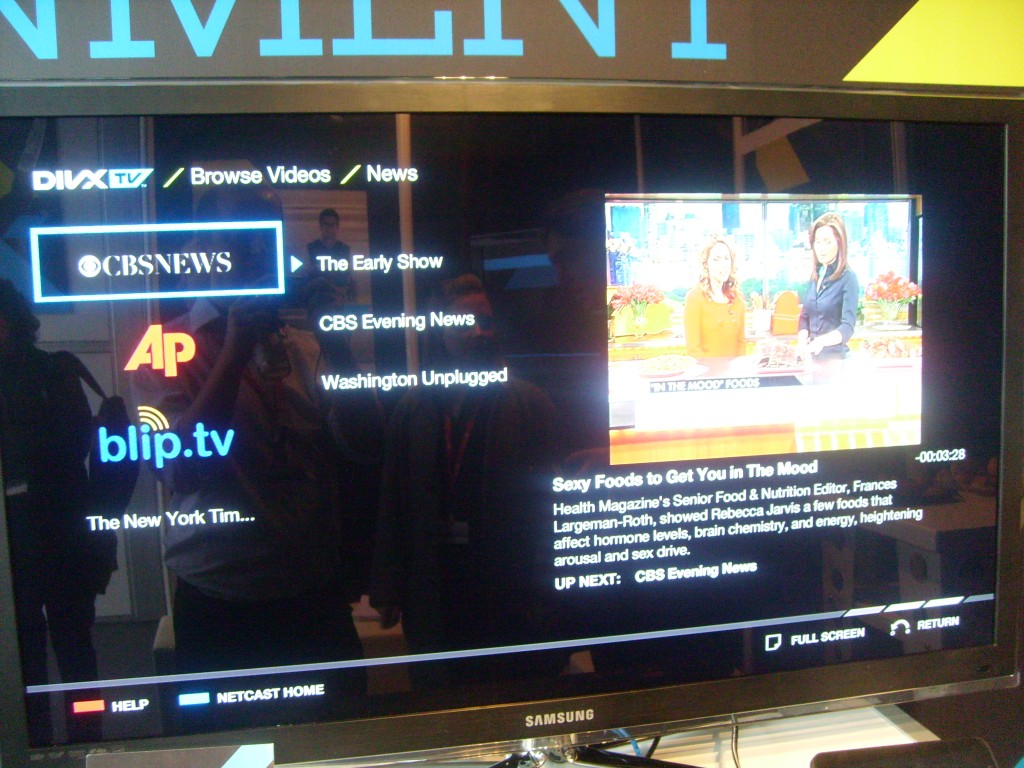 We ran into the guys at DivX yesterday and they've certainly got a lot going on. Basically put, if you see a DivX certified phone (like the Galaxy Tab, Galaxy S or Galaxy Wave) then you're guaranteed to be able to watch and enjoy high-quality content on your mobile device. Over 50 unique Android devices have already been certified and there's a definite momentum as manufacturers of phones and tablets seek to give a smooth and stable video playback experience.
Movie companies are coming on board and we were shown how easy it is to buy films and TV content. Using RoxioNow we were shown how easy it is to get film information, watch a trailer and buy a movie. You can watch, buy or register either on your Android phone / tablet or via the app or on the web through a PC. The movie will stream to your device and DivX take care of the quality – they're basically the "quality keepers" and will make sure that the video looks good, no matter what you watch it on.
With our busy lives we were shown how movies can be paused on one device, then restarted on another device from the point you paused it. Less and less free time means that you can watch that movie when you get a free minute and anywhere with a data connection. But heck, it's not all about being connected. What if you're on a plane and don't have any data connectivity ? Well, that's OK. You can download the movie too. Once you've purchased it it'll be available for download and, provided you have a DivX certified device, you can watch, download and move the content to another DivX certified device. It's roughly a 700MB file but can go up to around 1.5GB depending on the quality and length. It's all DRM protected so there's no danger of the film getting copied around without the DivX DRM protection.
This sort of quality, DRM protection and multi-device watching is a very important part of the mobile experience. Device manufacturers want to offer movie downloads, streaming TV and music, but without the copyright headache and quality issues. This looks set to solve all those problems. DLNA delivery was also shown and it's amazingly flexible – a movie was streamed from a phone to a TV with an iPad acting as the control.
Lastly we were shown DivX TV. It is built into some set-top boxes, DVD players and connected TV's and delivers a wide range of TV "channels" and video feeds that you might not get on mainstream TV. It's all instant and has hundreds of show which, at the moment, are delivered free. An Android client was also shown to us – it allowed the DivX TV to be delivered anywhere, any time. It'll hit the Android Market soon.
We made a recording of the interview in MP3 format…