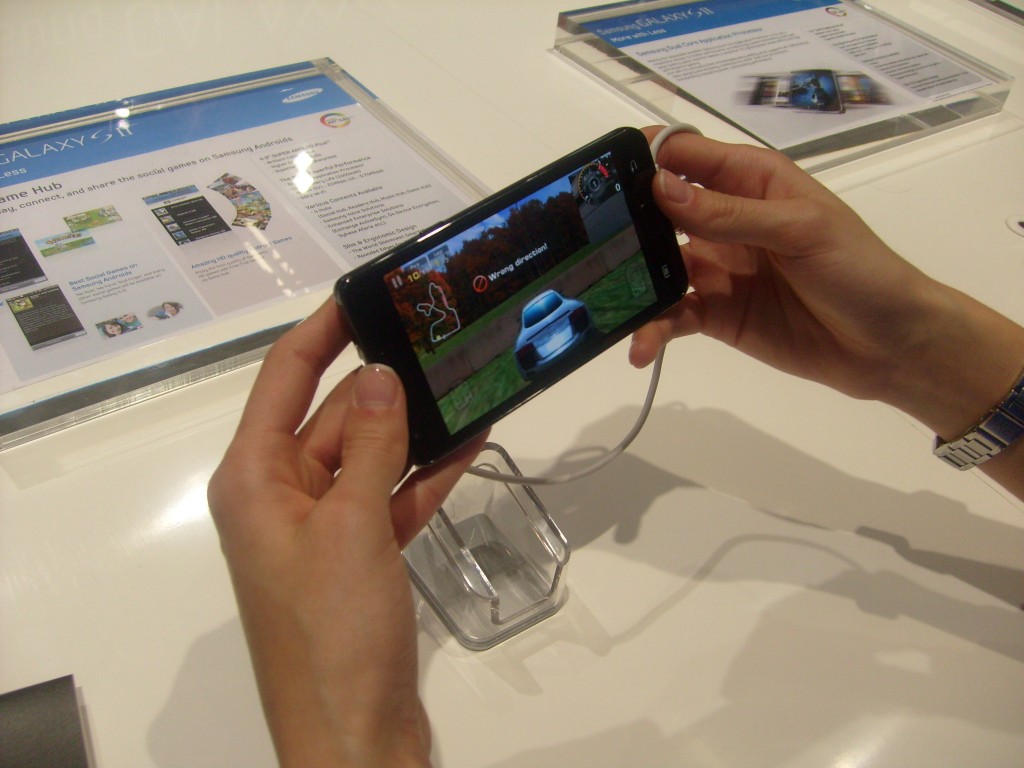 The Samsung stand was absolutely rammed today. The Galaxy S II was causing quite a bit of interest thanks to it's 4.3″ Super AMOLED WVGA display and dual core application processor. We got a couple of videos thanks to the Samsung crew and, I must admit, that thing is slim. You'd hardly think that such a capacious screen would fit and 1650mAh battery is in there.
The first thing that hits you is the quality of the image and, I must admit, it's something that almost everyone we've talked to seems to be striving for. There's 1GB of RAM and storage options of either 16GB or 32GB with microSD expansion. An 8 megapixel shooter provides HD video recording and a 1GHz CPU powers the device. You also get WiFi, HSPA+, aGPS, Bluetooth v3.0, 3.5mm audio jack, a microUSB connection and Android Gingerbread powering the whole show. Samsung have also added their TouchWiz GUI and they've called DLNA "AllShare" which definitely makes things easier for us to understand. Basically put this will let you push your media across the WiFi to compatible TV's and boxes that accept it.
As usual we've got a video for you to enjoy direct from the ladies on the stand. Sorry about the lighting on this one, there's not a lot we can do with the flicker.
[yframe url='http://www.youtube.com/watch?v=KLcLh7FBBFE']
Update – Here's another one for good measure… 🙂
[yframe url='http://www.youtube.com/watch?v=o2-zshtek9A']
We'll have more shots online later but until then do check our Flickr gallery.