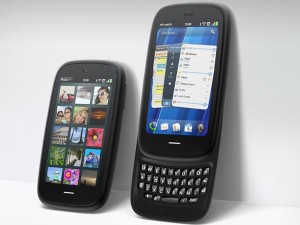 Hp have announced their latest /first phones .
Probably of most interest is the Pre 3,this phone is aimed at the high end market,although to me doesn't quite measure up to the competition.
Features include:
3.6″ screen
480×800 resolution
" The largest Querty keyboard" (eh?)
1.4GHz Qualcomm cpu
5mp camera with Led flash and HD recording.
Second up is the Veer
(No pictures that I could find quickly)
This is clearly a mid range phone with a modest specification,including:
Slide -up keyboard
2.6″ 320×400 display
Snapdragon 7230 Cpu running at 800MHz
Not much more to say on this, both phones come with the usual Wifi and Bluetooth etc.
Both devices are apparently running the same amount of ram as the Pre 2 – 512mb.
The only other problem is the timescale, the Pre is " this summer and the Veer "this spring" this will leave both devices looking somewhat average compared to what will be out at the same time, hopefully HP will keep the prices down to make them more attractive.