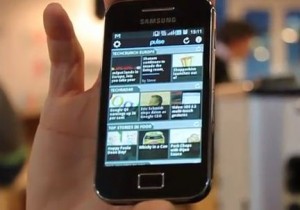 ..and within minutes of Samsung announcing their new handsets there's confirmation from Three that they'll be carrying the Samsung Galaxy Ace handset…
"Galaxy Ace is the follower of the very popular Galaxy Portal. It's an Android phone and it'll launch on version 2.2.1(FroYo +) of the operating system. The phone is fitted with a 3.5 inch touchscreen which looks great when you use the live wallpapers. It also comes with a 5 megapixel Auto Focus camera and ultra bright LED flash, so you can use it to capture some great night time footage."
The guys at Three have also added this video to show you the phone. You can use their all-you-can eat "The One Plan" and the in-built Wifi hotspot functionality in the Ace to solve all your portable data needs.
The Galaxy Ace has a 3.5″ HVGA display and 800MHz processor. Sylvia Chind, Head of Branded Devices at Three told us….
"We're delighted to be bolstering our handset portfolio with this new device. Doubling up as a personal Wi-Fi hot spot, the Samsung Galaxy Ace offers unique smartphone functionality and our customers can use Three's high speed 3G network to enjoy Google Maps, social networks, downloading apps, shopping online and much more."
The handset has an 800MHz CPU, portable Wifi capability, Android FroYo, a3.5″ capacitive touch screen, 5 megapixel auto-focus camera with LED flash, GPS and live wallpapers.
Links – blog.three.co.uk – Youtube