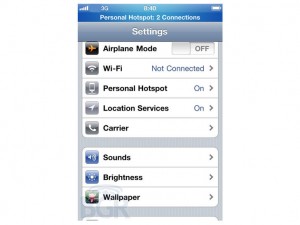 iOS 4.3 has been released to developers, giving us some insight into what we can expect in the next update.
Most mentioned so far is the ability to turn your iPhone into a mobile Wifi hotspot, like Android 2.2 – great news for 3 customers, not so beneficial for T-Mobile customers. If you are kitted out with Apple tech though, you will soon be able to tether a WiFi only iPad to your iPhone.
There are also some new filters for the camera, including thermal imaging and x-ray, and Airplay support for 3rd party apps.
The update is for both iPhone and iPads, and will bring new multi-touch features to the iPad. Four finger pinch, swipe and flick will all be possible.
Timing of the release is still a mystery, but we don't normally have to wait too long after dev release, and the rumours of an iPad 2 launch in the next few weeks means we could see 4.3 installed from launch on the new iPad. It looks a like a busy month for Apple.
via – TechRadar