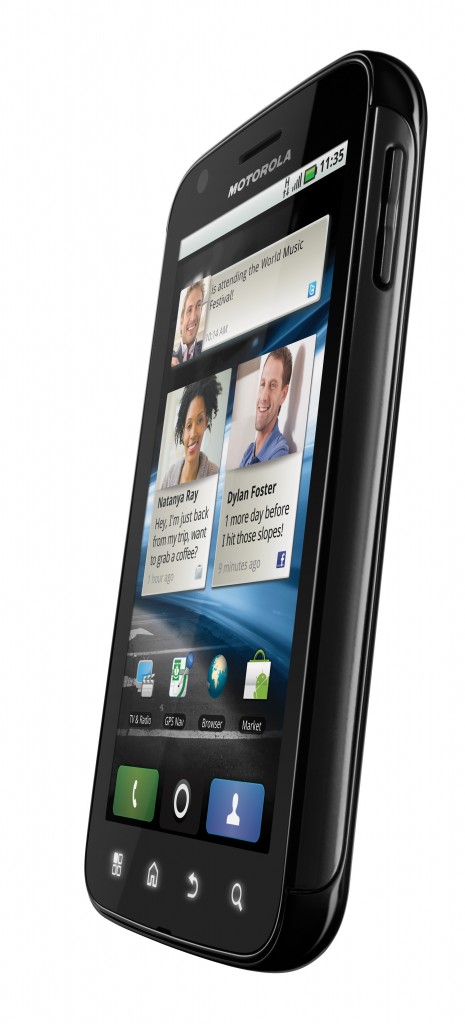 I must bow my head in shame at this point. I've spent so long website tweaking that this particalar item has passed me by. Motorola Mobility, as the new mobile arm of the company is now known, have just announced the Motorola ATRIX – a dual-core CPU phone with each core running a 1GHz. Now, it doesn't take the greatest mathematician in the world to work out that this is going to very speedy indeed. Chucking out 2GHz of processing power and packing 1GB of RAM, it's slated to be the "world's most powerful smartphone".
Inside there's Android 2.2 and a 4″ qHD (Quarter HD 960×540) 24-bit colour display underneath Corning Gorilla Glass, 48GB of storage (16GB internal and 32GB microSD), a fingerprint reader, two microphones for noise reduction and a long-lasting 1930mAh battery. Other specs include the 3.5mm audio port, WiFi 802.11 b/g/n, Bluetooth 2.1 EDR, 5 Megapixel camera at the back with flash (with HD video recording), a VGA camera up front for video calls. GPS, Adobe Flash Player and the usual light and proximity sensors.
Motorola are also promoting a Motorola HD Multimedia Dock with three USB ports, a HDMI port and keyboard, mouse and speaker connections. There's also a Motorola Laptop Dock which packs a 11.6″ screen, 36Wh three-cell battery for eight hours of battery life, full keyboard and speakers. Weighing in at just 1.1Kg you slot your Motorola ATRIX into the back.
Orange UK customers can expect the device in Q2 of 2011.
Link – Motorola.com – Atrix Fact Sheet
Credit – Paul Sleight