Specs
CPU – 1GHz
Storage – 1.5GB internal, 768MB RAM, microSD expansion
Camera – 8 megapixel auto-focus and LED flash, 720p HD video recording, geotagging
Connectors – 3.55mm audio jack, microUSB connector
Sensors – G-Sensor, digital compass, proximity sensor, ambient light sensor
Other – WiFi, Bluetooth 2.1,
OS – Android 2.2, HTC Sense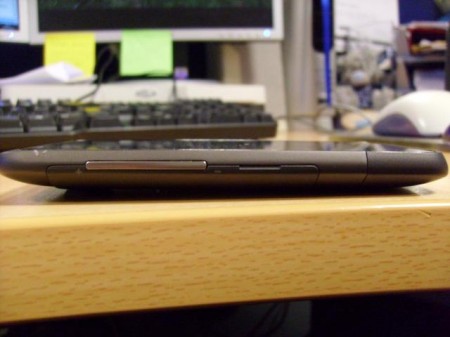 The first thing you'll notice about this handset is the huuuuuge 4.3 inch screen. It has a 480 x 800 resolution and is made from glass giving a smooth multi-touch finish. At the top there is a massive speaker which is used in voice calls, there is also a small sensor at the top which could be mistaken for a video calling camera. This is actually the light sensor to detect the lighting and adjust the screen brightness if needed. It's also used to fade the screen away when you put the phone to your ear for voice calls.

Below the screen are 4 touch sensitive buttons and are pretty standard on Android now, these are for HOME, MENU, BACK and SEARCH. There is also a small HTC logo at the bottom. Generally I found these 4 buttons frustrating to use as they are just touch sensitive and not actual hardware buttons like found on the EVO 4G. Over time they did get easier to use but were not as sensitive as I had hoped.
The left side of the phone has the volume up and down buttons and, towards the back, there's a little slot to lift the cover hiding the battery. Unlike recent HTC phones the battery is not under the bottom slide as seen on the Legend – it slides out from the side.
The top of the Desire HD has just a single button which is for power. You use this button for switching power on and off plus for putting the phone into standby mode. It is a shame there was no headset jack placed on the top it would have really been good for music lovers who want to just plug in a headset and go. On the Desire HD this is actually located on the bottom.

The right hand side of the phone has nothing at allm not even a single button which is a let down especially when there is plenty of room to put a camera shutter button. Instead using the camera needs tapping the screen to focus and to take the picture which as I found today takes too long and you can end up missing that all important photo never to be taken again.
Below are some example shots we've taken with the Desire HD. Provided you hold the camera steady and get the lighting right, you're OK…

At the bottom of the phone is the micro USB port which is obviously for charging and also for the data cable to transfer data. The 3.5mm headset jack, which as I said earlier should have been put at the top. I know I am not in a position to question these product designers who have millions invested in design technology but as an everyday mobile user who likes to use a phone for a music player I can tell you putting the headset jack on the BOTTOM of the phone is just wrong, although you could at least put the phone into your pocket top-down if you need to access the audio port easily.

The back of the phone is where you find the 8.0 megapixel camera, dual LED flash, speakerphone and the two slide off compartments. The bottom part is for the SIM card and microSD memory card and, as mentioned before, the side cover is for the battery which is only 1230mah, when you consider all the technology inside the device and the massive screen a 1400 or even 1500 battery would have been a much better option.
With the phone auto adjusting the backlight I was lucky to get through a day with normal use and that was with hardly using the camera at all and only using the browser for a short time. The screen really sucks the battery especially with all the syncing it likes doing with the Google servers to backup your content.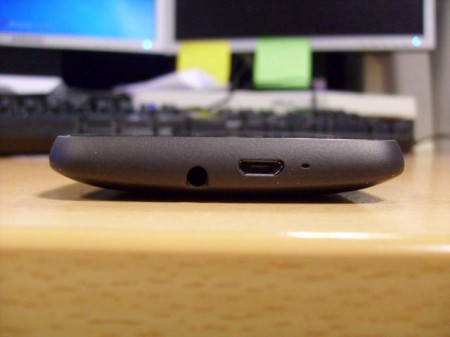 This is a quick video overview of the phone to show you the size, speed and a few features of the phone which are listed in this review.
HTC have done a great job with their Sense software and given it a bit of an update. HTC Sense now includes a great online portal where you can get access to your contacts, messages, footsteps (geo-tagged photos) and also check out the online HTC Likes applications which are a range of apps you can browse through which people have recommended.






HTC Hub is a new addition to the range of applications and is a online store full of wallpapers, skins, sound packs and much much more to help you customise your HTC Desire HD to make it really personal. You also get an application on the phone for HTC Likes which is like what was mentioned above, a list of recommended applications you can download to your device to get the most from it.
When it comes to a phone you can customise the HTC Desire HD is a dream device with it's large screen giving you more space for applications, up to date 2.2 operating system, online access to your content and a new quicker version of Google Maps.




There is so much to cover on the new version of Sense it would be easy to just write a review on that but I will leave the rest of that coverage until I have managed to get hands on the Desire Z next week so it can be compared between two devices.
HTC have also added a fast boot mode which really has to be seen to be appreciated how fast it is!  The original Desire included a wait a good 10-15 seconds for the phone to start up and be able to start using it, on the Desire HD that has dropped to about 3 seconds which you will see in the video below.
—


The first thing you should do when looking to purchase a Desire HD is check out the fair use policy of the data plan, handsets like this really use up data quickly by use of the browser, Android market, emailing and just general android tasks like checking for updates, syncing your content and much much more. A great application which I use on EVERY android phone I use is 3G Watchdog which is free and gives you a display on how much data you have used, how much you have left and will warn you when you are about to hit your allowance. Simply search the Android Market for '3G Watchdog' and download to give you piece of mind. Vodafone who supplied this loan device offer 500MB fair use on data which will be a lot for most people but there are people out there who need more data and this is where knowing what other deals there are for data is important for example an extra £15 gets you an era 3GB of data use and allows you to use your phone as a modem, very handy with the new WiFi Tethering application built into the OS.
— CONCLUSION —
First of all I would like to thank the team at Vodafone for providing the loan of the HTC Desire HD especially as so many people are trying to get their hands on one and with all the publicity and high marks the original Desire got the HD had big shoes to fill.
Battery life during this review seemed to suffer a great deal, but we only get to loan these devices for a few days. Initially we struggled to get a day out of the handet but, after a number of charges, things got better.
The camera was lacking, even though the megapixels have been bumped up from the 5 on the HD2 to 8 for the Desire HD. Somehow the quality is still poor when you look at what other manufacturers have done with their cameras. The Apple iPhone 4 although just a 5 megapixel camera the quality of the pictures it takes is stunning and even Nokia with their 8 megapixel phones like the C7 and N86 still take very high quality photos. The issue seems to be something I have found in all HTC phones and that is really bad lag when it comes to both using the viewfinder and also taking the image, first of all it feels like if you move your phone from left to right the phone takes longer than other phones to refresh and then when you press the camera there is a short delay in taking the image which makes it look blurry, These issues are many in low/poor lighting conditions, outdoors is better but you really need perfect lighting. It;'s a little strange when the Windows Phone devices built by HTC are so quick on the camera side.
And the last point which has to be made is that this phone will not be for everyone. The large size and massive screen will actually put a lot of people off as the phone can feel a little bulky, not because of the thickness but because of the weight and the actual size. However to be totally honest if you are looking at getting a Desire HD you know it is going to be a big phone, you can see that by just looking at it.
Now on to the good things and there are a few, if you are looking at the Desire HD and accept it is a large phone, you will love the massive screen for web browsing and for watching videos. It's hard not to enjoy such a large and bright screen. Second, having Android 2.2 the phone supports WiFi Tethering out of the box with no cables needed and this was actually very handy for me recently with needing to do a bank transfer and the modem failing on me, I was able to load up tethering, and connect really easy using the laptop and complete the transfer, no hassle, no problem, no extra cost!.
Navigation is also great on the Desire HD and this is down to the speedy 1Ghz processor, Google Navigation (free) and again the large screen. When using Google Maps you see a lot more information on the screen than you would on smaller phones and also when using as a Sat Nav because of the screen size the phone is easier to use when driving.
HTC have done an amazing job with their 'HTC Sense' software and it really does take phone customisation up a level by giving you 7 screens to fill with widgets, apps, shortcuts, clocks…. it really is up to you.
If I was to score the HTC Desire HD out of 10 I would give it an 8. The size of the phone make it perhaps not for everyone, but if you are a big Android fan and accept these facts you will love the phone.