Today Nokia announced the N8 was shipping with it's 12 megapixel carl zeiss camera and xenon flash, but on the Android front, Altek have announced that their new 'Leo' device will be available in Europe and anyone who is after a camera phone will just drool at the specifications which include
14 Megapixel Camera
Xenon Flash & LED Light
3x Optical Zoom
720p HD Video
Android 2.1
WiFi / GPS / HSPA
The key point here is easily the impressive 14 megapixel camera which also has an optical zoom and a xenon flash for the best quality photos. Altek have given Q1 2011 for a EU release and if the phone is impressive as the specs this phone will be one to look out for!. Full press release after the break with a larger image
Link – GSM Arena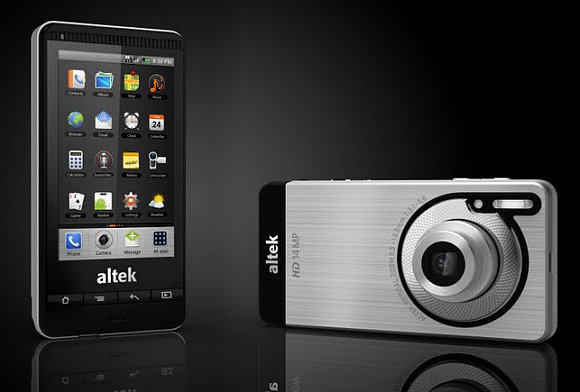 A new king of the smart phone jungle is sharpening its claws for a European debut. Beginning first quarter 2011, imaging technology leader Altek roars onto the continent with Leo, the world's first Android-enabled 3.5G smart phone to feature an HD-capable 14-megapixel camera.
The company is currently seeking channel partners in the region as it prepares to bring Leo to market. You say that other smart phones have cameras? Leo eats them for breakfast. By starting with the best available digital imaging technology, Altek has built a cutting-edge Android device with unmatched photographic and video capabilities. Throw your old digital camera to the lions. Leo does it all with image quality and functionality far exceeding anything else in the mobile communication space.
Convenience, power and connectivity put Leo at the top of the food chain when it comes to smart phone photography. "Memorable moments usually happen when you least expect them," observed Altek CEO, Alex Hsia. "You want to be able to capture those precious moments anytime and anywhere, and Leo is the device that lets you do just that. " Hsia added, "Leo is the product of design know-how that comes from years of creating breakthroughs at altek in digital imaging technology, integrated with most advanced Android smartphone system." Leo doesn't skimp on the features users have come to expect in today's crowded smart phone market. That includes a generous 3.2-inch WVGA multi-touch capable display for easy input. Each phone ships installed with Google's Android 2.1 (Eclair) mobile OS, allowing simple access to e-mail, Web browsing, and social media services like Facebook YouTube, and Flickr. Leo keeps you connected with Wi-Fi, Bluetooth and 3.5G (HSPA/WCDMA) wireless and network protocols. Enjoy high-speed broadband connections via 5.76mbps HSUPA or 7.2mbps HSDPA. Leo's built in GPS makes navigation and geotagging images a snap.
Accelerometer, digital compass and handwriting recognition all contribute to what this powerful smart phone can do for you. Whether listening music or watching movies, you will discover Leo supports most major audio and video formats. Don't worry about finding room for your files; Leo's memory is expandable up to 32GB via microSD card. Digital imaging and video are where Leo really shows its teeth. Few smart phones can deliver a comparable set of photographic features that start with a 14-megapixel CCD and 3x optical zoom lens. High-definition, professional-quality images are always a click away. It doesn't stop with digital photography. Leo also shoots crystal clear 720p HD digital video, capturing life's memorable moments anytime and anywhere. This predator has sharp eyes. Leo's 3x optical zoom represents a breakthrough in smart phone design by delivering a feature photographers have come to expect from today's cameras, but not from their mobile devices. It puts users right in the action, opening up a world of photographic possibilities. Whether at 36mm or full 108mm equivalent magnification, Leo takes sharp, vivid images every time. Like its feline namesake, Leo is at home in the dark. Low-light situations are not a problem thanks to Leo's powerful built-in xenon flash and auto-focus assist lamp. When it comes to getting the perfect image when you need it, Leo is ready to help with smile- and blink-detection technology. Why wait to transfer photos to a computer before editing them? Leo packs a suite of handy options that allow "editing on the fly," so users have the image they want before it leaves the camera.
How does the leader in digital camera technology start a revolution in smart phone design? Altek assembled one of the most experienced and dynamic R&D teams in the industry, drawn from tier-one mobile phone manufacturers. A dedication to excellence in design and quality has made Altek one of the largest DSC ODM companies in the personal electronics field. At the core of Altek's camera technology is the Sunny 9 digital image processor. It is the brainchild of Altek's crack team of design professionals—industry leaders and PhDs working to develop latest chip technology to power Altek's cameras and smart phones.
"The challenge facing Altek's design team was how to integrate a fully functioning 14-megapixal camera with 3x optical lens while maintaining Leo's smart phone form factor," said JS Liang, Altek vice president and head of R&D. "An optical lens requires precision moving parts and mechanisms that ensure the device functions properly, but it also has to be attractive and easy to use. We achieved this without compromising Leo's look and feel." The results speak for themselves: a sleek smart phone that is as powerful as it is elegantly executed.