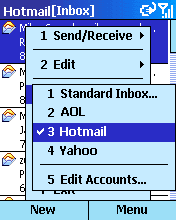 Sunnysofts' MailCenter (although I'd spell it MailCentre myself) 😉 is a brand new application for Smartphone users. You'll probably have noticed that it's not impossible to manage more than one email account on the Smartphone, but now Sunnysoft MailCenter enables you to define and manage an unlimited number of email accounts, either individually or together.
Main features include..



Individual folders are created for each account.

Individual or "en masse" sending of messages.

Emails can be sorted.

Data can be stored in any folder.

Receiving, saving and sending of attachments is supported.

Deleting of emails support.

Font changes are enabled.

Delete or leave the email on server.

Download of header/complete email/part of email supported.

All types of connection incl. ActiveSync
Download a trial, or buy it by clicking here
.