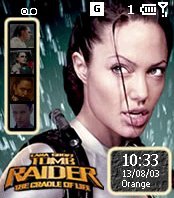 Tomb Raider 2 – The Cradle Of Life is coming out August 22nd here in the UK (where it was filmed too!) and to celebrate we have been sent this from Joel Francisco (DeBuG) direct from the Philippines.
This is currently gracing my Smartphone and looks excellent even with the backlight off ! To download it, log in and click here to grab it! Then you can have the lovely Lara Croft (Angelina Jolie) on your phone.
For more information about the film – and for your chance of winning a 42″ Widescreen Plasma TV, click here.
Update! Joel has just sent me in another excellent skin, so I've added a new folder in for him. You can find his skins in the downloads section here, including the new "Finding Nemo" skin!