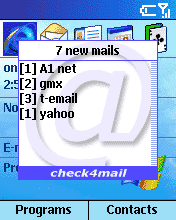 check4mail Ver. 1.0 for Microsoft Smartphone 2002 devices.
"Stay in touch with your email accounts!"

check4mail automatically connects to the internet and checks your email accounts if there are new messages for you. So you are informed if new messages are waiting for you. The perfect tool for Power users, who needs to stay in touch. If you receive new mails with your accounts you will be notified by a ring and a message which appears on the screen and gives you an overview of all your accounts and the new mails since last check. Then you can either download with your email client use your webclient to read your mail.

Simple and easy account management.

Enter your account data easily and setup the checking interval and timing so that you can check all your accounts in one go. This optimizes costs and increases the response time of your mails while you are on the move. More than 30 major email service providers are preinstalled so that you just have to enter your email address, login name and password. All other settings are coming from the internal database.

Schedule with check4mail how it fits your needs.

An extremely flexible scheduler allows to define the times and intervals when your emails accounts are checked for new emails.

Silent mode or Offline mode – It depends.

When you activate the silent mode the ring tone is disabled if you get a new email. So you will not disturb during meetings. In the offline mode the check4mail is deactivated. In the offline mode no email accounts are checked until you deactivate the offline mode.

Overview of check4mail features:
· More than 30 predefined email service providers
· Automatically checks POP3 or Imap accounts
· Up to 99 accounts that will be checked
· Easy account Management
· Powerful Scheduling for checking the email
· For private and Business Use
· Silent Mode
· Offline Mode



check4mail is available here

For more information please visit www.2kdevelopment.com.