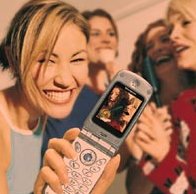 After quite a long power cut last night, followed by a stream of fire-engines flying past the house (ok, not "flying" as in really flying, but you get the drift)… I couldn't get email, but today this arrived …
The Mitac Mio in action! It's a 9 Megs video again like the Tanager Video, and it shows the new software applications, the game Metal Strike, camera speed (you can record videos easily), menu speed and more!
Click here for the full story (from our friends at mobilejoe.de) or you can click here for the video.
First impressions? That video capture on the Mio is smooth and quick plus it's not as big as I imagined either.
Also check out the additional video from PocketPCItalia.com by clicking here!
Thanks to mobilejoe.de and PocketPCItalia.com