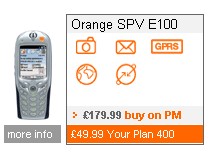 The Orange web site was updated today 11/07/03 at 13:00 and the SPV has vanished! Though there are rumours that the SPV has been canned, the SPV we know and love may not be permanately withdrawn. Following a week out of stock it seems that it's just disappeared from sale while the E100 takes a bit of limelight. Plus it still seems to be showing in the Orange "Business" section, in several thousand shops in europe and on the orange.com site, so I doubt it will be swept away.
The SPV E100 is now GO GO GO!!! (Thanks Murray Walker)
The price depends on talk plan, but you can get it for a mere £49.99 on "Your Plan 400", plus you can lower the plan later to reduce costs.
Also, some users are being told that if the SPV is lost / stolen, then an E100 will be given as a replacement. I doubt this is true though, as I've heard of people still having their Nokia 5.1's replaced! 🙂
What's that ? You want one ? You want to buy one ? You'll sell your body for one ? Well hey – why not. Get down your local Orange shop and demand one this weekend! Paul over at modaco.com has just got his, so see what he has to say about it. It comes complete with the Eleksen keyboard (a real plus point), an MMC card and several programs.
Don't forget – if you have an original SPV and you're sitting there going "AAawwww!!! I want one but it'll cost a fortune to upgrade!", don't despair, because there's a whole host of MS Smartphones planned for Christmas time.
If you're a Nokia/Sony/Ericsson/Samsung user… what THE HELL ARE YOU DOING? Put that piece of arse DOWN and get down to the Orange shop and buy an SPV E100 NOW! (See, all this and still Orange PR don't contact me.. tskk) 😉
Source – www.orange.co.uk … Check the reviews section to read about the E100.
Story – Andy Maxfield / Mark Willington / Chris Philp / Joe – thanks to everyone else who mailed in! 🙂