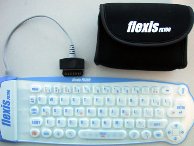 The new Flexis keyboard, which is to be sold by our friends over at OrangeSmartPhone.com will also be able to copy and paste, just press the Shift-Arrows to highlight text and then CTRL-C to Copy and CTRL-V to Paste. Just like a PC !!!
Also, aswell as the keyboard being splash-proof AND washable, the keyboard doesn't require the 1.50 OS or keyboard drivers from your operator. Provided your phone is unlocked, the keyboard should work fine. Stock is currently coming in and will be sold at the UK based orangesp.co.uk, it retails for a mere £49.99
(in stock soon!) so check it out.
Check out the FULL REVIEW in out reviews section HERE