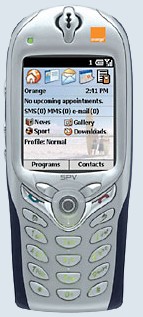 It's like Christmas in July! Lots and lots of reviews and press coverage for the E100, which seems to be a bit hard to get hold of still – but hopefully this will change in the next few days!
Check out ZDNets' review here! They gave it an "8", which is a marked improvement on their "7.6" rating of the original SPV here, but I'm not sure that ZDNet actually had an actual E100 while they were doing the review, as the only image they have is of an early press-picture, with incorrect colours, wrong-sized logo and no "SPV" marking on the front. But who am I to judge eh? Even though they never mentioned coolsmartphone.com once.. pfff.. disgraceful.. 🙂
As for costs, well check this DirectMobilePhones.com page out.
(Thanks to Andrew for spotting this)