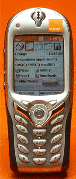 It's more eagerly awaited than a Harry Potter book and mobile shops across the UK are gearing up to start selling the SPV E100. The launch is now confirmed for July 7th 2003 (modaco.com) and Orange are keen to keep a safe price-gap between the two. It appears that, no matter what the cost of the SPV, the SPV E100 will retail for at least £60 more.
The SPV E100 (HTC Tanager, reviewed here) will probably be a lot easier for Orange to launch. Not only is it identical (apart from some minor cosmetic tweaks), but Orange customer services and their Data Support team on 156 should now be more familiar with the Smartphone OS than they were when the SPV was launched.
Also, check out
this first-seen advert from Orange
for the SPV E100 in Switzerland.
The excellent Mobilejoe.de
has the scoop on this, so check it out, because you'll be seeing a lot more adverts like it in the rest of Europe soon! In Switzerland it'll be on sale for CHF 398 with subscription or for CHF 998 without subsription. The advert shows a few slight changes, including the letters "SPV" across the top of the keyboard, plus a nice small Orange logo.
If you want to see the FCC report (including close-ups and PDF's) – click here.
Check out even more release info here – get yours first!!