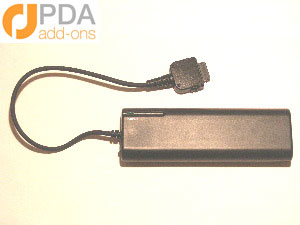 One of the biggest grumbles about the first Smartphone (the Orange SPV) is the battery life. Luckily, our friends over at PDA Add-ons come to the rescue with this extra battery back.
All you need to do is plonk 4 AA-sized batteries into it, then plug it into your sync-port. It couldn't be easier! It charges the SPV battery 3 to 5 times, so you can keep the Battery Extender in your glove-box ready.
Also, if you mention the phrase in this article, you will get a fantastic 10% off the £8.99 price-tag!
See more at PDA Add-ons or click to have a look at the Battery Extender.