Introduction
When Nokia reached out and offered me the chance to review their 7 Plus handset, I snapped up the chance.
This was their first phone with the new larger aspect ratio display as well as being the only Nokia device taking part in the Android P Beta, so I had a chance to get me some pie!
With Zeiss optics, a new taller screen and Pixel-like software, I was looking forward to giving this device a test, even though it was not running all the latest hardware.
---
Design and display
The Nokia 7 Plus is the first from the company with the new larger 18:9 aspect ratio display that we are now used too from other manufacturers, and it helps considering there is also no notch to worry about.
There are two colours available to buy, we received the Black/Copper version and you can also get a White/Copper too if you like the lighter colour on your phone.
When it comes to the look of the 7 Plus, Nokia have done a great job, it really looks, and feels like a premium smartphone, however without the large price tag you would expect from something like this. Weighing in at 183 grams, the Nokia 7 Plus has some weight to it, mainly because of the all metal and glass design, sometimes a heavier phone is a good thing because it feels more premium in the hand.
Made from a block of series 6000 aluminium with a ceramic feel, the Nokia 7 plus not only feels solid in the hand, it also feels high-end.
There is no sign of any IP water resistance here, which is a real shame as a lot of phones, even in the mid-range, include some form of water resistance, even if it was just splash proof. With that being said it's perhaps best to keep this away from water.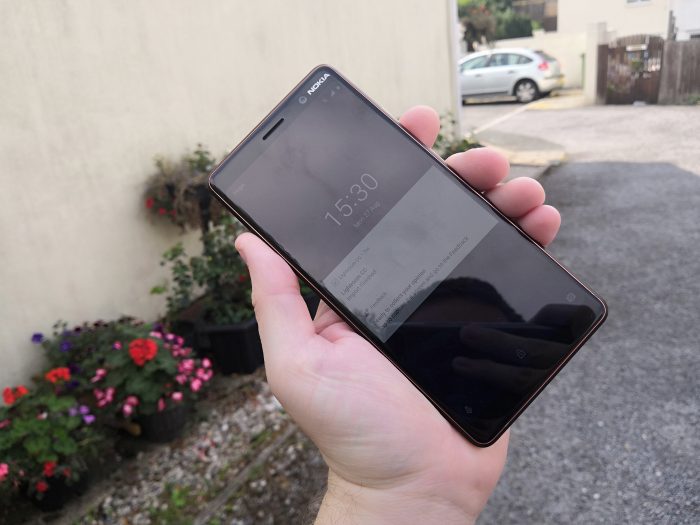 The front display is made from Gorilla Glass 3. This is not the latest from the company, but it will help prevent some sort of scratching and damage. A screen protector is highly recommended if you want to keep that display looking as new as possible, but this will not be for everyone.
Up top, there is a decent 16 megapixel camera which also features Zeiss optics. This help to get cleaner, crisper photos and is a brand well-known in the camera industry.
The front-facing camera also uses Auto HDR to help boost the brightness and colours to produce a much better and more detailed photo.
There is no dedicated front camera flash, but with the screen bright enough this helps boost brightness and does a decent job.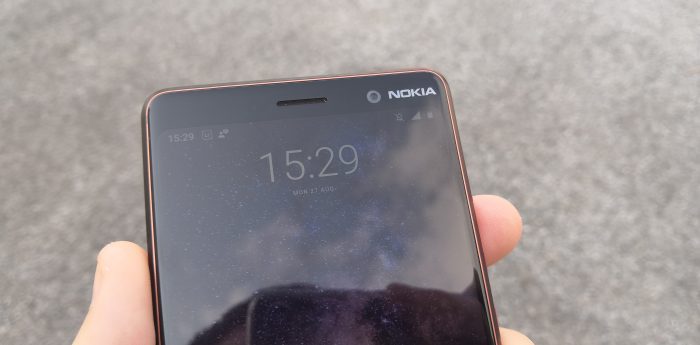 The front panel is taken over by the 6 inch TFT display which features IPS technology as well as Nokia's own HD+. Thankfully for a lot of people, there is no notch to be seen.
The resolution comes in at 1920 x 1080 making this a 1080p screen, not one of those higher resolution 2K we see on certain devices, but even in 2018, the 1080p resolution is still widely used as it has better performance on battery life. Also not many people can really see the difference in most uses.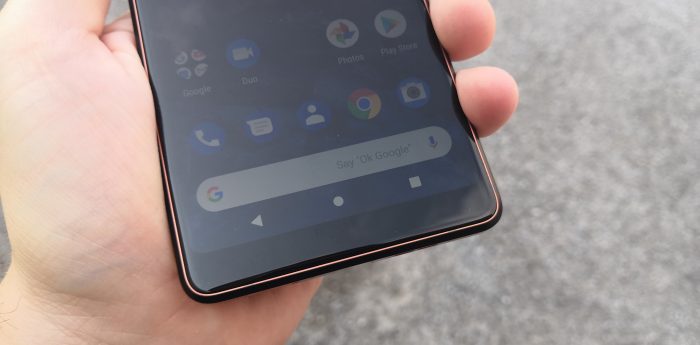 With the display taking up all the front, the fingerprint reader is located over on the back which makes the Nokia 7 Plus an 'all screen' phone. This is great for watching videos or using the camera.
From a personal view, I prefer the fingerprint reader on the back as it allows for more screen and smaller bezels which is something everyone wants these days..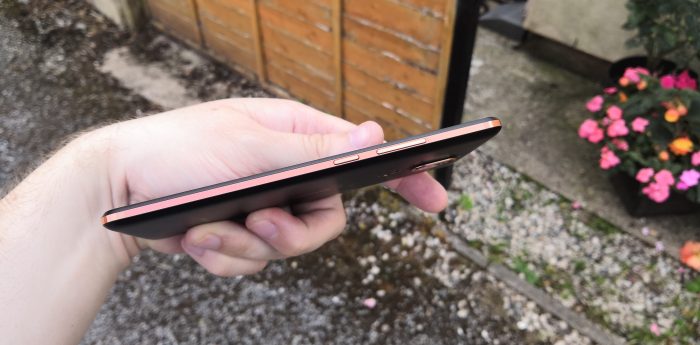 Moving over to the right hand side you get the physical buttons on this phone, and these are for volume control as well as the power button, sadly no dedicated camera button was included, however it seems only Sony like to use them on their phones.
The buttons are decent quality and press well which gives it a premium feel, also with the beautiful bronze colour that runs around the side of the phone it really does look premium and stands out.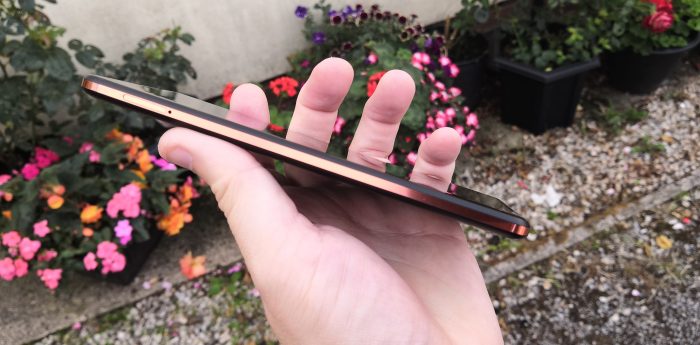 Looking over to the left hand side all you have is the SIM tray which, as with most things these days, is ejected by using the little tool in the box. However if you lose this you can also use a paperclip but be careful not to bend it.
In the slot you have the Nano SIM tray for the SIM card as well as the MicroSD card slot for expandable storage.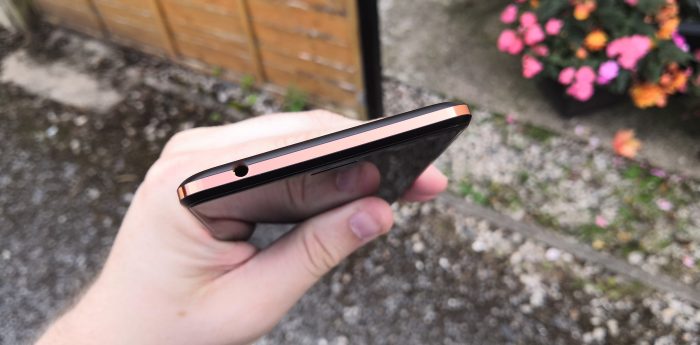 Up top there is the 3.5mm headset jack port which was nice to see included considering most manufacturers are doing away with this and either including a dongle or forcing you to use Bluetooth headphones instead.
At the bottom you get the USB-C port used for charging and data transfer, this is now becoming the standard. There has not been a phone here with microUSB for a while. You also have a microphone at the bottom used for voice calls as well as for capturing audio when recording a video.
Lastly is the speakerphone which is loud and produces clear crisp audio even at maximum volume.  This is good for anyone who watches a lot of video or uses speakerphone for calls such as conference calls.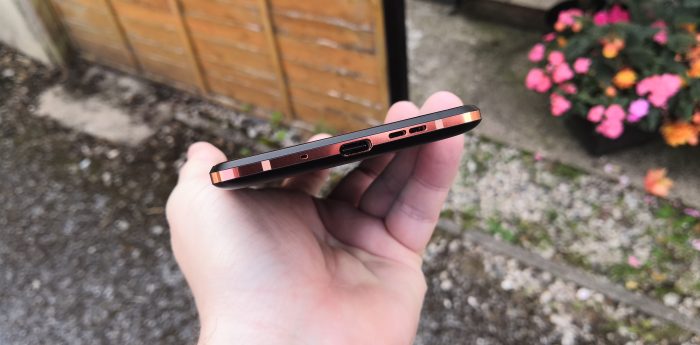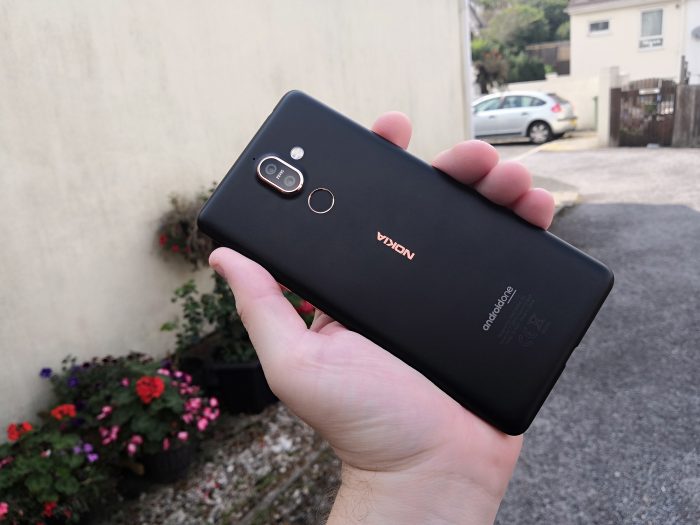 Over on the back you find the dual LED flash used to help in poorly-lit conditions. It also came in handy as a flashlight.
That fingerprint reader, as mentioned before, is perfectly positioned for you to unlock without even needing to look where it is, this is great and allows fast unlocking and for payments using Google Pay.
You have the logos for Nokia and Android One on the back as this is part of the Android One collection of devices.
Lastly there is the main feature of this phone, the dual cameras branded by Zeiss, which is a huge brand in the camera industry and brings with it a lot of expectations. The specs and performance of the the cameras will be covered in more detail below.
Cameras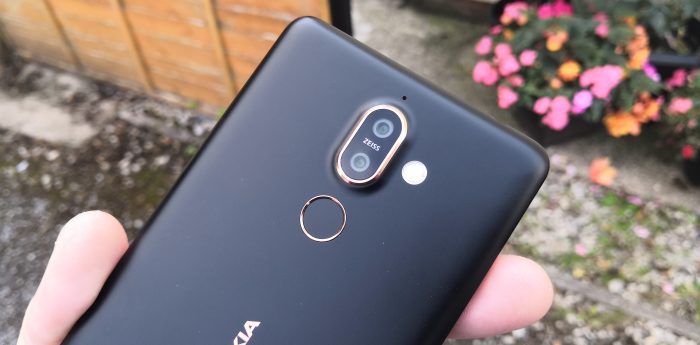 The camera will be one area that is heavily looked. When you're packing a dual camera configuration branded by Zeiss, you need to make sure it impresses.
Each manufacturer takes a different approach to the dual camera format, whilst Huawei offer RGB and Monochrome sensors, LG offer a unique wide-angle style. Nokia have gone with the more traditional style of using a second telephoto lens for zooming and bokeh mode.
The main camera is a 12 megapixel Zeiss lens with f1.75 aperture. This means it lets in a decent amount of light for night-time photography, although not the lowest like we have seen from Samsung and LG which has f1.5.
The secondary lens is 13 megapixels with f2.6. We're more used to seeing this in fancy bokeh style photos we all see on Instagram and other social media. It also allows 2x optical zoom without losing detail, however with the higher aperture comes the chance of more noise in low light.
With no OIS you will have to rely instead on EIS, which maybe is why the Nokia 7 plus struggles in both exposure when zoomed in, or in poorly lit situations. There is also no AI mode which we are seeing a lot more of these days, whilst another phone in this same price range – the Honor 10 – comes full of AI tricks to improve the overall photo, it was sadly lacking on the Nokia.
Whilst AI is not for everyone, I actually rather missed seeing what the results were with the handy processing extras, and going to the standard point and shoot was a little boring, thankfully though you do get a decent HDR mode though.
The camera software is one of the very few customisation areas Nokia played around with, and instead of the standard Google photos app, Nokia have their own which does have a few good additions.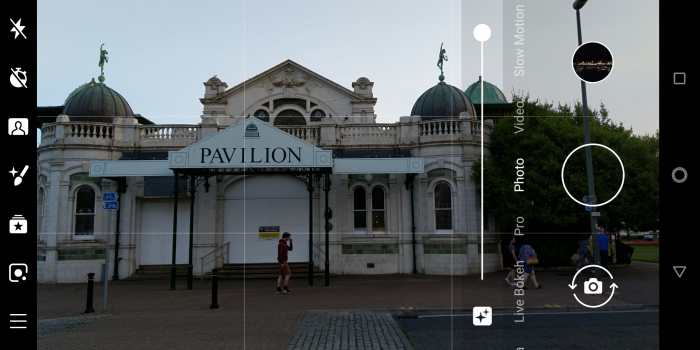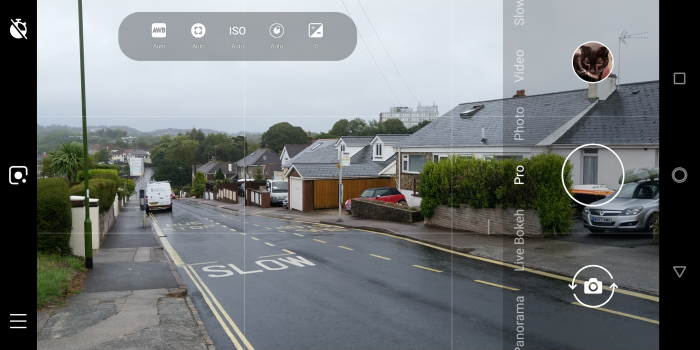 When looking at the camera software for the first time, you may be a little taken back with the amount of options available to you and icons everywhere. However, once you get used to what they mean, you will soon be playing around with getting the best possible photo.
As well as the standard photo mode and panorama you get on every phone, the Nokia 7 plus has a very good Live Bokeh mode which uses both cameras to get the blurred background with in focus foreground effect. Overall quality is good, it seems to do a good job working out which is which, and produces a good quality photo if a little dark at times I found.
The other area Nokia do well is with their Pro option giving you full controls over things like brightness, shutter speed and focus which is handy for macro photos. I often found in Pro mode it was the focus section I used the most, allowing me to get close up to a subject and very the focus with a slider until I thought it was in the right spot. Other advantages include shutter speed for light trail shots in the evening, but for this a tripod is definitely needed.
The other interesting camera trick is something that launched with the Nokia 8, the (and I am sorry to say HORRIBLY named) Bothie. This is the mode that splits the screen and shows on one side what you are looking at, and at the other your reaction. This is handy for things like sporting events or a concert, however quality in video seemed to drop dramatically and I stopped using it.
You also get a few handy live streaming options built in, so you can quickly go live on Facebook or YouTube and share the moment with everyone.
Overall quality of the captured photos was decent, in daytime conditions you get a great amount of detail, however HDR mode is highly recommended to get the best out of the scene. Zoomed-in photos using the second camera were pretty decent, but struggled to expose the subject at times, often resulting in a poor overall shot.
Night time started to struggle to live up to what I had hoped for, whilst it was not the worst by far, a lot of the competition now have made such big leaps with their camera software and hardware that Nokia really need to pull something big out of the bag to impress. I am sure if the company had used OIS then the night photos would have been much better in quality and noise.
My overall thoughts on the camera is, for £350 you do have to expect some sacrifices over more expensive products. For the money you're getting a very good quality camera in the right hands.
Video can be recorded in up to 4K, however if you do use this mode then – be warned – you lose the stabilization which could result in a wobbly mess if you were walking whilst recording. Dropping to 1080p gives you back the stabilization which would be more suited for most conditions, and with that being said I would suggest sticking to this mode as much as possible.
As well as the Bothie mode mentioned earlier that records both front and back at the same time, you also get Slow Motion as an option, not at the super slow speeds at 960fps we are seeing on flagships now, but slow enough to make certain scenes more interesting than if at normal speed.
It is often easy to spend all the time concentrating on the rear camera and overlook how good the front camera is for, don't forget that the front camera is for more than snapping a selfie. It also gets used for video blogging as well as video calling with friends and family, so a good camera is needed.
With this in mind I was very happy to not only see on the specs that Nokia added a 16 megapixel camera, but also that the quality was up there being one of the best I have ever used on a smartphone.
Performance and battery
Even though the Nokia 7 Plus does not run the top-of-the-range processor, the Snapdragon 660 does a great job at keeping things going. It also has some handy battery improvements by running a slower one.
You also get 4GB of RAM which was enough to provide a smooth, lag-free experience even with graphic heavy applications and games.
When it comes to storage you get 64GB internal which will be enough for most, and there's MicroSD card support should you want to put and expandable storage in. However, as the main photos app is Google Photos, all your snaps will be backed up free online anyway.
During my review period I used an EE SIM on which had access to the fastest 4G speeds possible. Not only did I get VoLTE, I also had VoWiFi, which was great to use if I was in any poor signal areas and speeds were decent with a maximum achieved of around the 100Mbps mark. Remember though, network performance and services will vary.
The battery performance was very good, mainly down to the processor used but paired with the large 3800mAh battery built in. Software also plays a part and recent versions of Android have made improvements in power management, and this will continue when Pie rolls out. You also get Quick Charge technology built in so even if you do find a time you are running low, a quick plug in will give you a handy boost, it was just a shame wireless charging was not included.
I could easily go a whole day using the Nokia 7 Plus as my only phone and still have battery left at the end of the day, even after taking photos and playing Pokémon Go which really does use a lot of battery.
Software
The software experience on the Nokia 7 Plus is as close to Pixel like as you can get, without being an actual Google Pixel.
This is thanks to the Android One version of the OS that HMD use on their recent smartphones. This is what Google expect Android to look and behave like, with very minimal changes by the manufacturer. This means that you'll get faster updates in the future.
Most of the installed apps are ones from Google, that means you won't get two gallery apps, two text messaging apps and so on, you get a clean clutter free Google experience.
Google Photos is the preset gallery app, and that is a good thing because it means you have to have set it up to be able to view your photos, which in turn also means you will be backing up all your photos even if you did not realise it.
Too many alternative smartphones out there use their own gallery app, never setting up the handy (and FREE) Photo Backup service offered by Google, so if the phone becomes damaged or lost, all of your photos are gone.
The SMS app is Android Messages, and the latest version allows you to text from a computer as long as your phone is turned on and connected to the internet, so now even if you left your phone back at home, you can access your text messages with a browser.
The software experience of the Nokia 7 Plus was very enjoyable, as someone who loves the Pixel style of the OS, I was very pleased to see the same carry over to Android One devices.
Android P
As mentioned in the review already, the Nokia 7 plus was one of the few Android One smartphones on sale in the UK. Not only that, but it was chosen to be part of the Android Pie Beta. This allows people to see the latest version as long as you don't mind the odd bugs.
I decided to give it a whirl for a few days and found the latest version to be very stable and enjoyable. After going into settings and enabling the new gesture navigation, I found that the experience was almost exactly like that of a Pixel, only missing a few bits from the UI.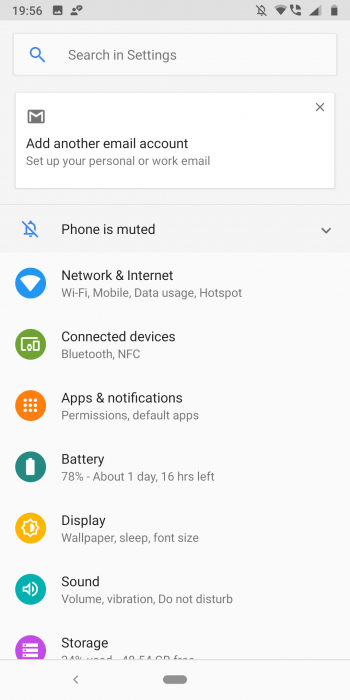 I was pleased to see the new-pill shaped navigation bar at the bottom which allowed quick movement between recent applications.
Also you get the new home screen navigation with half a slide up, giving you open apps as well as a few recommended apps to use below. There's also a full slide up motion to get your installed applications.
Considering this was still a beta version, I was very impressed and look forward to seeing the final version roll out shortly.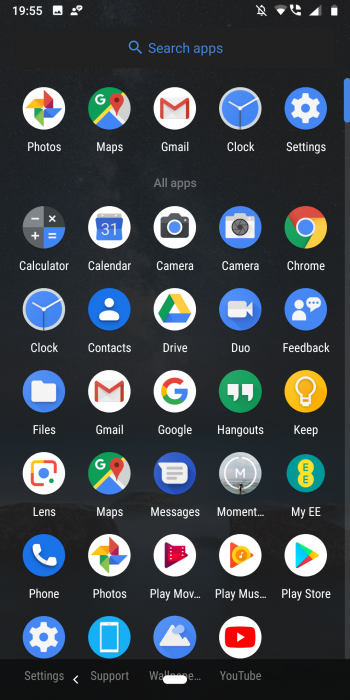 Conclusion
The Nokia 7 Plus was a phone I was really excited to get hands on. Not only because it is one of the latest devices from a brand I have followed for years, but because it was also one of the first non-Pixel phones to get access to Android 9 Pie.
I used the 7 Plus for a total of two weeks, swapping between an EE SIM and a Three UK SIM to see network performance out in the real world, however it was mainly used on EE.
During my time with the device I was very impressed with the battery life, easily lasting me a full working day which was nice to see, especially as some phones still struggle with daily battery performance.
The camera was one area I really hoped would stand out. On some occasions the picture quality was very good, mainly if there was good lighting like out in the sunlight, however low light conditions caused the 7 Plus to struggle against my OnePlus 6 device. At this price point though, it was very decent for the category.
With a price of £349 SIM free and unlocked, the Nokia 7 Plus is a good buy for a lot of people, especially if you want a Pixel-like software experience without the hefty price tag that comes with it.
I really enjoyed my time with the device, and with Android Pie expected any time now, this is a phone that will keep getting better and better with updates.
You can buy the Nokia 7 Plus from various stores available now, including the official Nokia Store here for £349.
Nokia 7 Plus
Screen - 80%
Camera - 83%
Battery - 90%
Performance - 85%
A phone set to get better and better the more you use it.