We're always looking for new ways to show you around a smartphone and, as you'll have probably seen here, we usually end up filming the screen of a smartphone with … another smartphone.
If you've got a Mac then you're probably going to be using an iPhone or an iPad when you're away from it. So, if you want the capture the screen of that device, there's better ways than just filming it with a camera held in your hand. As a better alternative, it's definitely worth checking out the Movavi screen recorder for iOS.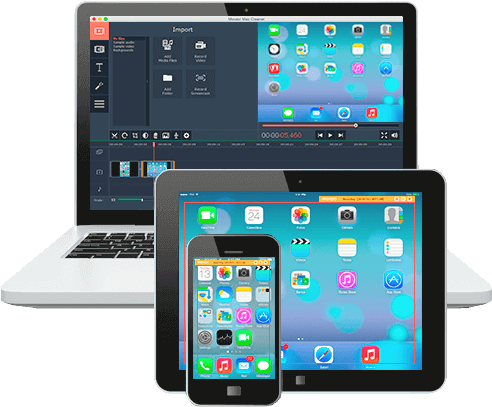 It does exactly what it says on the tin, and is a great way of showing off your app, game or for producing guides and easy-to-follow instructions for customers or fellow staff members. Thanks to the editing capabilities of this app, you can trim footage, cut it, add effects, captions and put your own voice onto the video or perhaps a musical track. This is great if you want to add some additional fun or a polished edge to your piece, and it's incredibly easy to delete unwanted segments.
If you're in charge of mobile devices at work then this will give you a hassle-free way of producing how-to video guides on email setup or VPN connections. If you're the developer of an app or game you can produce an advert or feature for YouTube. If you're just a big fan of mobile gaming then you can share your digital adventures with your friends online easily and edit it for that professional feel. The app features stacks of transitions, filters, slideshows and you insert pictures or screenshots easily – simply drag them onto the timeline to splice them in. When you've finished creating your video, simply save it in either AVI, MP4, MOV or FLV. You can also optimize it for any mobile device with custom presets, which will also let you share online.