EE, the joint merger company of T-Mobile and Orange and also the name of the new 4G brand will be announcing their 4G pricing in just a few days…. on Tuesday October 23rd via their website ee.co.uk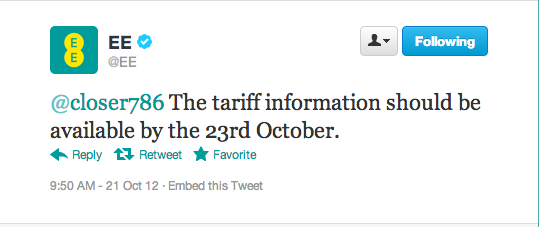 Many customers (myself included) as well as other press have been long asking the question to EE when we will see exactly what the first 4G network will cost us, and after what has felt like a long wait we will soon have our answer.
There is lots of information to take in such as pricing and also different data packages with 4G networks allowing quicker access, fingers crossed we see higher data packages to compensate for this.
I have asked on Twitter about data allowances and got this reply from EE:


Once EE have announced their 4G pricing we will bring it straight to you here on CoolSmartPhone!
Link: EE.co.uk