Vodafone get the exclusive on the Sony Xperia E1 in purple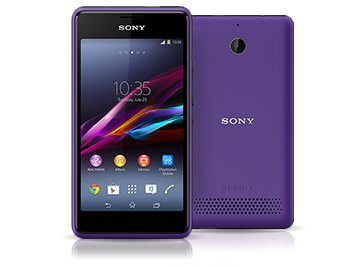 The Sony Xperia E1 was one of those phones that Sony announced before MWC, it's a pretty basic model with a loud speaker on the back and a Micro SD slot, so it's ideal for those kids who listen to music on the back of the bus. Well the good news is that Vodafone have the exclusive on the purple model and it'll only cost £80 on PAYG.
Get the party started wherever you are with super-loud speakers and Sony's crystal clear audio experience. Watch movies and games come to life on the large 4-inch touchscreen, with Sony technologies designed for mobile. And get noticed with the Xperia E1's bold design and sophisticated colours.
It's a pretty basic spec, with key points being:
Weight – 120g
Micro SD (up to 32 GB)
Screen – 4″
SIM type: Standard
Dimensions (mm): 118 x 62.4 x 12
Internal memory: 4 GB
Operating system: Android Jellybean 4.3 
Processor: Dual-core 1.2 GHz Cortex-A7 
3G network: HSDPA 850/900/1900/2100
Bluetooth v4.0 
Camera 3mp
For more info head over to the Vodafone Store