With the launch of the Samsung Galaxy SIII only days away, the hard working people over at Mobilefun.co.uk have released images and video of the new accessories for the class leading handset.
Doubling up as both a holder for the S3 and a battery charger, the Genuine Samsung Galaxy S3 Holder and Battery Charger works as a sleek desk stand that hides your battery away whilst it's being charger.  It docks your S3 at the most convenient angle for typing, swiping and streaming media and even has an LED status indicator light so that you know when the battery is charged.  This is perfect for use at home or in the office.
The C-Pen is a gorgeous and stunning stylus which not only helps to reduce the amount of fingerprints on the display of your S3, but also can improve your accuracy when typing messages and just using the handset in general.  The rounded end of the stylus makes it extremely easy to use and as it's made from a soft material won't damage the display of your S3 in any way.  It's comfortable and looks just like a ballpoint pen.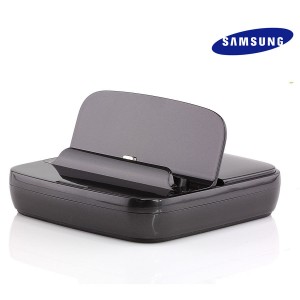 The Desktop Dock simply docks and charges the Galaxy S3, holding it at the best angle for typing, swiping and streaming media.  It can dock the S3 in either portrait or landscape orientation making it great for movies; the volume controls are fully accessible too so you can change the volume whilst watching a movie simply and easily.
The Genuine Samsung Galaxy S3 Flip Cover is both protective and stylish.  It replaces the back cover of the S3 and provides full screen protection without any additional bulk: therefore the entire handset remains looking newer for longer.  The cover is really well constructed and stops any damage for getting to the S3; it even has all the cut-outs for the important ports and features so that the S3 remains fully functioning whilst in the case.
Like the Chrome Blue Flip Cover, the Ceramic White one replaces the back cover of the S3 in order to provide full screen protection without adding any additional bulk to the handset.  The case offers hard wearing and durable protection, whilst allowing access to all the ports and features of the S3 so that it remains fully functioning when in the case.
If HDMI and Wi-Fi displays are your thing then the Genuine Samsung Galaxy S3 Wi-Fi Display Hub is right up your street.  This clever device plugs directly into the HDMI port of your TV and allows you to stream your favourite movies, games and music through your TV.  It's also great for showing off holiday snaps and videos to your family and friends
Are you buying or ordering a Galaxy SIII? Do you like the look of any of the accessories? Let us know over on our forums.